Spring vegetables - grow your own!
Publish Date: 07/04/2014 12:37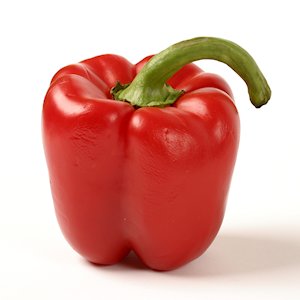 Well spring has finally arrived, and it's a key time for many gardeners across the country as its the start of the vegetable growing season. Seeds are being sown, plugs are being potted on and the greenhouse is getting busy full of vegetable plants! Below are a few of the many choices of vegetable plants that we have a Longacres, ready for you to nurture and look after at home!
Sweet Peppers
Sweet peppers are a great addition to any vegetable garden. Easy to grow and look after these vegetable plants will provide you with an abundance of brightly coloured fruits all summer long. Pepper seeds can be tricky to germinate; for those who don't want the challenge, 'mini' six packs containing 3 varieties of sweet pepper are available in store! Top Tips for Sweet Peppers
Keep out of any frost - make sure your plant your peppers after the last frost or grow them on inside on a windowsill or heated greenhouse/conservatory.
Make sure the soil is light, nutrient rich and free-draining - Water little and often!
Feed plants with a high-potassium fertiliser weekly when fruiting.
Lettuce Varieties
Lettuce plants are one of the easiest and one of the most well known vegetable plants! These versatile plants can be grown fairly easily from seed but can also be bought in 12 packs and planted straight into the ground to save time. Some lettuce plants must be harvested in one go at the end of the season, but there are many varieties now that are known as 'Cut & Come Again', where you can harvest what you need, and the plant will continue to produce more foliage! Top Tips for Lettuces
Lettuce plants are considered hardy and so can be planted out now.
Protect plants from slugs and snail using copper wire, or organic pellets.
Ensure that you leave enough space between your plants so they don't compete for nutrients, about 30cm apart is ample.
Onions
Growing your own onions is really simple and can be done right now! There are two main ways to grow onions from seed, and from onion sets. Onion sets are very simple and excellent value and can be planted in autumn for an early crop or now, for a late season harvest. You can buy onions growing from seed in 12 packs now for easy planting! Top Tips for Onions
Plant in full sun, in a sheltered position.
Water your onion sets during dry spells and remove any flowers as soon as they appear.
Birds can be a problem and may lift your onions. Place deterrents near the plants to avoid this.
So there you have it - some common vegetable plants that are really easy to grow and look after! It is also of note that they can all be grown in containers on patins or decks if your tight on space. Why not grab yourself some vegetable plants, and see for yourself?