What to do in your garden - September 2019
Publish Date: 28 August 2019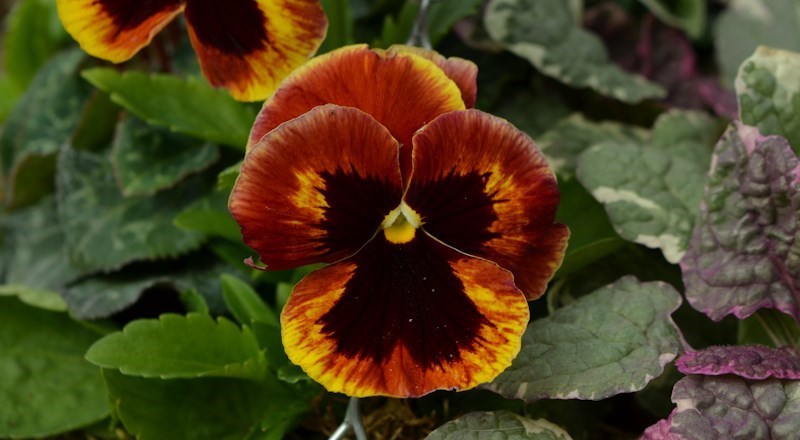 Here we are in early autumn, with the days getting shorter and the prospect of cooler temperatures. But it's a lovely time to enjoy the remnants of summer colour, and plan ahead for spring by planting bulbs and winter bedding, amongst other tasks:
Autumn bedding is now available, ready to plant once your summer bedding plants start to fade and go over: viola and winter pansy come in a huge range of colours, and flower best in sunnier spots. Mix with evergreen plants such as ivy, herbs, heuchera or small pots of evergreen grasses or shrubs, for interest through autumn and winter.

Now's the time to start choosing and planting spring-flowering bulbs for a beautiful display next year. From alliums to crocus, daffodils to tulips, Longacres garden centres will have plenty to choose from – the bulb packets give individual cultivation details about spacing and depth of planting. If weather conditions are still too warm to plant, make sure you store packets of bulbs in a cool, dry place until you wish to plant them. Of course, we also stock bulb compost and tools perfect for the job.

Rockery plants or alpines are looking good with a vast selection from succulents to sedum, dianthus to campanula. Always something in flower for an instant boost to a sunny, well-drained spot in your containers or borders.

Raspberries – when summer-fruiting varieties have finished, cut out fruited canes (to the base) and select 6-8 of the strongest canes (this year's growth) and tie in, cutting the rest back to the base.

Hardy evergreen herbs such as sage, rosemary, thyme, and bay are all garden worthy and can be planted anytime to give fragrance and flavour to your home cooked meals.

Make more of your established herbaceous perennial plants by lifting them with a spade, dividing the clump and replanting them. Make sure you water newly divided plants well. Why not get together with friends and swap your spare plants.

Prune climbing roses after they've finished flowering. Start by pruning out any dead, diseased or spindly, weak growth. Then cut side shoots back to a couple of buds. This will ensure you get the best from your roses next year.

Deer and rabbit resistant plants: some plants are useful if you live in an area where deer and rabbits visit your garden. Unless you fence the whole area, the alternative is to choose plants they don't like eating! Here's a list of plants which are less likely to be eaten (there are no guarantees however) : Alstroemeria, antirrhinum, aucuba, box, buddleja, choisya, clematis, Cornus sanguinea, Elaeagnus, hardy fuchsia, hellebores, hyacinth, hydrangea, lavatera, Laurus nobilis (bay tree), lavender, lonicera (honeysuckle), lupins, magnolia, mahonia, Narcissus (daffodil), rhododendrons and azalea, species roses, Primula vulgaris (common primrose), rosemary, sarcococca, snowdrops, syringa, tulips, verbena, Viburnum opulus, Viburnum tinus, vinca, weigela, yucca.

Hardy heathers are here – great for planting in beds, borders and as ground cover. Bee friendly and low maintenance – we love them! All heathers grow best in an open, sunny position in the garden. Calluna vulgaris 'Garden Girls' are called "bud bloomers" because their flower buds stay closed but show colour for several months and are superb for containers and hanging baskets. These heathers need an acid soil, but others can tolerate chalky conditions (lime tolerant heathers), such as Erica carnea and Erica x darleyensis.

Ornamental grasses are looking superb right now: miscanthus, pennisetum, festuca and carex to name a few. Grasses are mostly suitable for sunny areas in a well-drained soil, or in containers – use a loam-based compost with about 20 percent added multi-purpose compost for best results. Many have attractive seed heads - some varieties are not fully hardy unless grown in a coastal or very mild area (such as Pennisetum,) but are so attractive they are worth treating as an annual.