What to do in your garden - September 2018
Publish Date: 31/08/2018 15:50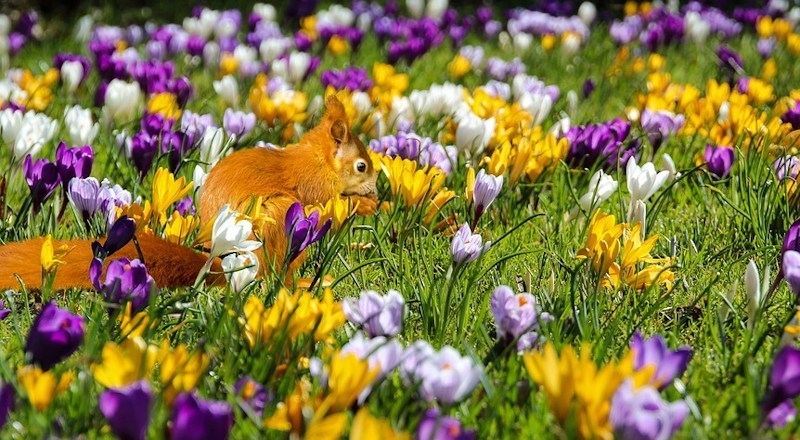 As summer mellows into autumn, September is a time to reflect on what has done well in your garden this year (make notes of your favourite bedding plants for next year!). Many gardeners will have lost some plants due to the exceptionally dry weather conditions this summer – have a think about replacing plants, or revamp beds and borders with different plants, for a new look. We have plenty to inspire you and revive your garden at Longacres:
Now's the time to select and start planting spring-flowering bulbs for a beautiful display next year. From alliums to crocus, daffodils to tulips, Longacres garden centres will have plenty to choose from – the bulb packets give individual cultivation details about spacing and depth of planting. If weather conditions are still too warm to plant, make sure you store packets of bulbs in a cool, dry place until you wish to plant them. Of course, we also stock bulb compost and tools perfect for the job.

Make more of your established herbaceous perennial plants by lifting them with a spade, dividing the clump and replanting them. Make sure you water newly divided plants well. Why not get together with friends and swap your spare plants.
Ease off the amount of water you give indoor plants now that light levels are decreasing and the compost takes longer to dry out. Excess water is the biggest killer of houseplants as roots will rot if surrounded by wet soil.

Tidy up your patio and paths by removing moss and algae from hard surfaces to help prevent areas become slippery over winter. Use a proprietary hard surfaces cleaner – a full range is available at our garden centres or online.

Continue removing faded flowers on hanging baskets (deadheading) and feeding them weekly with liquid fertiliser such as – tomato food, Miracle-Gro or Phostrogen – to get the longest flowering possible.

Plan your autumn/winter bedding plant scheme: autumn and winter flowering bedding plants are ready to plant to inject colour into your garden right now. Chrysanthemums are stunning and flower right through the autumn. Pansies and violas will flower through winter in a sunny position in hanging baskets and containers – a huge range of colours available to match your spring bulb colour scheme. We even have baby bedding plants (mixed pansies and polyanthus) in mini seed trays for you to pot up and grow on.

We have a selection of small evergreen plants which are useful for winter interest in containers such as conifers, ivy, heuchera, euonymus, skimmia and many more. Come and see our ready-made hanging baskets and patio pots for inspiration.

Many autumn-flowering perennial plants are available to buy and plant now, to add colour late in the season: aster, anemone, dahlia, phlox, penstemon, sedum and diascia to name a few.
Climbers for autumn colour: Parthenocissus quinquefolia, otherwise known as Virginia creeper, and Boston ivy (Parthenocissus tricuspidata) are two of the best climbing plants for glorious brilliant red autumn colour. Vigorous and self-clinging these will quickly cover a wall or fence and cope well in shady positions.

Alpines plants are many and varied and we still have a superb range in stock which are great fillers for sunny, well drained positions in the garden.

Hebes are fabulous autumn flowering evergreen shrubs, available in many different foliage colours, ideal for a sunny position in well-drained soil. They can tolerate light shade and can also be grown in containers using a loam-based John Innes compost with added grit to improve drainage. The flowers attract bees and butterflies, and flower colours range from white to pinks and mauve.

Prune climbing roses after they've finished flowering. Start by pruning out any dead, diseased or spindly, weak growth. Then cut side shoots back to a couple of buds. This will ensure you get the best from your roses next year.

Your lawn's appearance should improve after the long, hot summer, once we've had decent rainfall. Once green again you can apply an autumn lawn feed to help thicken up the grass and improve its appearance. However, because of the prolonged dry conditions, grass may have died and you may need to re-turf or re-seed your lawn. You can also find out helpful blog article here.

Hardy heathers are here – great for planting in beds, borders and as ground cover. Bee friendly and low maintenance – we love them! All heathers grow best in an open, sunny position in the garden. Calluna vulgaris 'Garden Girls' are called "bud bloomers" because their flower buds stay closed but show colour for several months and are superb for containers and hanging baskets. These heathers need an acid soil, but others can tolerate chalky conditions (lime tolerant heathers), such as Erica carnea and Erica x darleyensis

Ornamental grasses are looking superb right now: miscanthus, pennisetum, Festuca and carex to name a few. They are mostly suitable for sunny areas in a well-drained soil, or in containers – use a loam-based compost with about 20 percent added multi-purpose compost for best results. Many have attractive seed heads - some varieties are not fully hardy unless grown in a coastal or very mild area (such as Pennisetum,) but are so attractive they are worth treating as an annual.