What to do in your garden - July 2019
Publish Date: 24/06/2019 14:30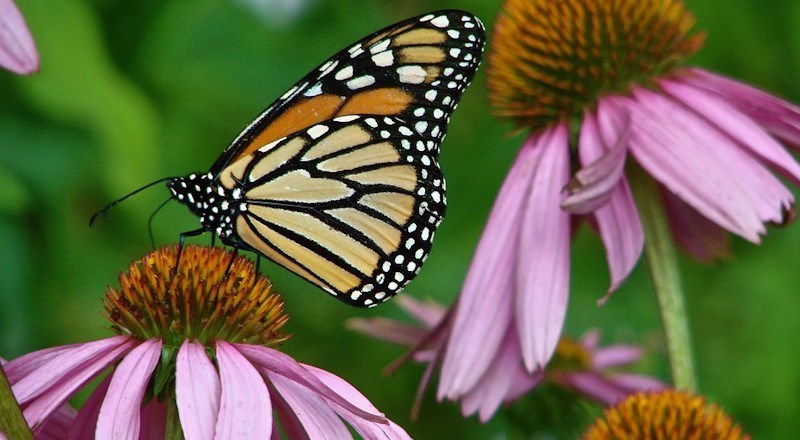 What a different early summer we've had compared to last year – but now July has arrived let's hope we get more settled sunshine and warmth so we can enjoy the beauty of our gardens. There are still plenty of jobs you can be getting on with in the garden this month, as well as sitting back, relaxing and enjoying all that you've planted and grown this year:
Deadhead (remove finished flowers, cutting to the next leaf below, where you will often see tiny new buds appearing) and feed flowering plants (from hanging baskets and container bedding plants to roses and perennials) regularly to encourage more blooms - we have numerous liquid fertilisers which are all suitable: from Levington's Tomorite, to Miracle-Gro and Gro-Sure.
Houseplant holiday care: we have gadgets and gizmos to keep houseplants hydrated whilst you're away. It makes sense give plants a good water before you go away, or ideally ask friends or neighbours to pop in once or twice a week to keep an eye on them. Take care not to overwater cacti and succulents as they hate it and may die! Moving plants away from sunny windows will make sure they don't dry out as quickly as usual. A tray with capillary matting will help keep plants moist. We also sell individual watering cones which are useful to keep a regular supply of water to larger plants

Stuck for ideas of what to plant in shady areas of your garden? Provided it's not too dry, you can grow the following: hosta, ferns, hydrangea and astilbe
Ornamental grasses (such as Calamagrostis , miscanthus and carex ) give movement and colour in the garden from now until autumn. They're are mostly suitable for sunny areas in a well-drained soil, or in containers – use a loam-based compost with about 20 percent added multi-purpose compost for best results. Many have attractive seed heads - some varieties are not fully hardy unless grown in a coastal or very mild area (such as Pennisetum,) but are so attractive they are worth treating as an annual.

Lawns: after the lovely rain, the grass is looking lusher than ever so needs regular mowing to keep it tidy. You could use a summer lawn fertiliser if necessary

Pruning: mock orange (Philadelphus) will have finished its flush of wonderfully fragrant flowers and can now be pruned ; cutting out flowered branches to allow this year's growth to mature and flower next year, plus remove a proportion of congested stems to improve next year's show of flowers

Keep tying in climbing and rambling plants now they've put on a growth spurt after June's rain. Stake delphiniums, lupins and gladioli where needed, and generally keep on top of removing faded flowers (deadheading) plants like roses, to encourage more flower production

Get painting! Sheds, garden furniture and fences that could do with a makeover are ideal projects for July

We still have plenty of hanging baskets and containers filled with summer bedding plants to give instant colour on your patio – perfect for the rest of the summer season: Extraordinarily good value 6.5 litre terracotta colour pots including cosmos, fuchsia, begonia, osteospermum, dahlia and nemesia

Long summer evenings are the best time to enjoy eating (and drinking!) in the garden. Why not grow your own fruits, vegetables and herbs to use on the barbecue, such as rosemary, thyme, basil, coriander and oregano. Tomatoes and peppers are easy to grow fruits to add to veggie skewers. Impress your guests by growing your own garnishes for cocktails: mint, cucumber, lavender and strawberries can make magnificent additions to the look and taste of your concoctions.

Bedding replacements – we have plenty to choose from: larger pots of summer bedding to fill in any gaps in beds and borders, or just pop on the patio for instant colour and flower all summer long

Perennial plants to fill in gaps in borders: echinacea (cone flower), agapanthus, heuchera, perennial geraniums, hemerocallis (day lily) - all flower later in the summer to extend the season of interest in your garden, and many attract beneficial insects