Twinkly App Controlled Christmas Lights - Updated For 2021!
Publish Date: 08/11/2018 15:30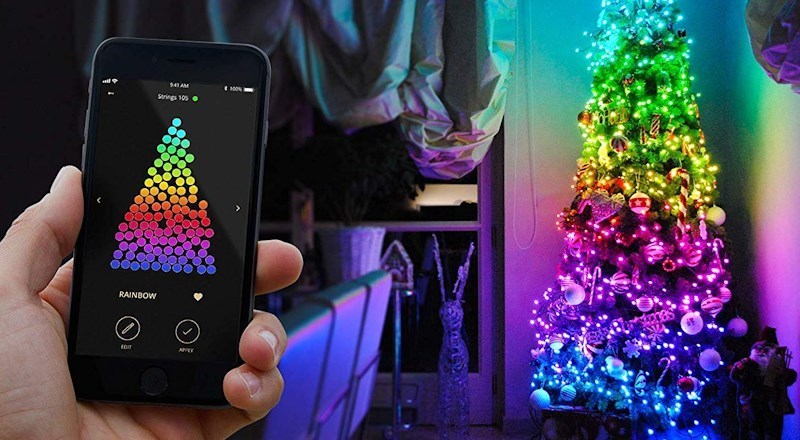 Twinkly is the revolutionary LED light string that will change your Christmas lighting displays forever, with industry-leading bright, colorful LEDs, its innovative app, and numerous smart functions and effect options.
Twinkly combines addressable RGB LEDs, a Wi-Fi/Bluetooth-enabled light controller and a state-of-the-art smartphone application, free to download for iOS and Android.
Twinkly LEDs are equipped with the newest RGB 4.3mm diffused lens, specifically designed with a flat head to intensify the light for impressive brightness and perfect tone of color.
Twinkly offers a wide variety of sophisticated effects and stunning animations, ready to be played and customized, and full access to the online gallery, where new animations are always available for download.
Brightness, speed, intensity and color palette effects can be modified instantly. A simple but powerful color picker helps choose the perfect color from more than 16 million vivid colors. You can even draw your own designs with your finger on your smartphone.
The patented computer vision algorithm transforms your smartphone camera into a powerful mapping tool that locates the precise position of each light. This innovative process lets Twinkly perform professional, pixel-perfect effects and animations on your decorations, whatever the shape!
The new Onboarding Process helps you set-up and configure Twinkly with ease, and Bluetooth connectivity pairs the device to the home/office Wi-Fi network in a few seconds.
Twinkly devices can be synchronized together in groups ((up to 4000 LEDs or 10 devices – in good wi-fi coverage)) for impressive scenery installations. The built-in music sensor livens up the party, syncing light effects to the music.
A handy ON/OFF Timer and general brightness dimmer gives complete control of your decoration.
These features, enhanced stability and multi-effect carousel features all make this the smartest Twinkly ever!
DECORATE - Unbox and decorate your Christmas Tree with Twinkly lights, just the way you are used to doing.
DOWNLOAD APP - Download and install the Twinkly app from the Apple App Store or Google Play Store.
MAP THE LIGHTS - The true power of Twinkly technology lies behind its innovative Computer Vision feature. The app is able to detect the exact position of every single LED through your smartphone camera. After you are done decorating, simply snap a photo in the app to map your environment and create breathtaking effects with perfection and ease.
PLAY EFFECTS - Choose from a huge gallery of eye catching effects and light up your Christmas tree with animations never seen before.
EDIT EFFECTS - Each effect can be easily customised by changing the speed, colours and other key parameters of the animation.
CREATE YOUR OWN - You can easily create your own custom effects. Choose the colour you like and draw whatever your imagination desires!
MUSIC SYNC - Each animation can be activated to be music-sensitive. Choose your effect, pump up the volume and enjoy!
HOME WIFI - You can easily configure each Twinkly device to join your local WiFi network. This way you can have full access to your Twinkly from a single screen and control them individually.
JOIN - This grouping option is designed for big arrangements. You can literally join more Twinkly devices together and use them as one device.
SYNC - This grouping option is designed for managing multiple products together and keep them in sync. Do you have 3 Pre-Lit Christmas trees and you like to make with them a spectacular scenographical effect? Create a group with the Sync option. Each effect you choose will be simultaneously played on all the trees.
Find these impressive lights in store at our Bagshot branch, order them online for nationwide delivery or order online for collection in stores.
Twinkly can be used in several modes:
Direct: push the button on the controller to select preset effects
Connected to a smartphone: use the Twinkly app to perform amazing animations easily and quickly
Connected to local Wi-Fi: access all Twinkly advanced features, like creating device groups, setting up vocal assistants, downloading new effects from the online gallery and more
Twinkly is IP44-certified, suitable for indoor and outdoor use.
Highlights:
App-controlled lights
Free iPhone and Android app
Wi-Fi and Bluetooth connectivity
Dozens of ready-to-play effects and animations
16 million colors, super-bright LEDs
Computer Vision mapping tool
Online Gallery access for free effect download
Draw & customize your own effects
Built-in microphone for Music Sync
Works with Google Home and Amazon Alexa
Smart controller, plug, and power cable included
Indoor/outdoor use (IP44)
On / Off / Timer function