Twinkly App Controlled Christmas Lights - New For 2018!
Publish Date: 08/11/2018 15:30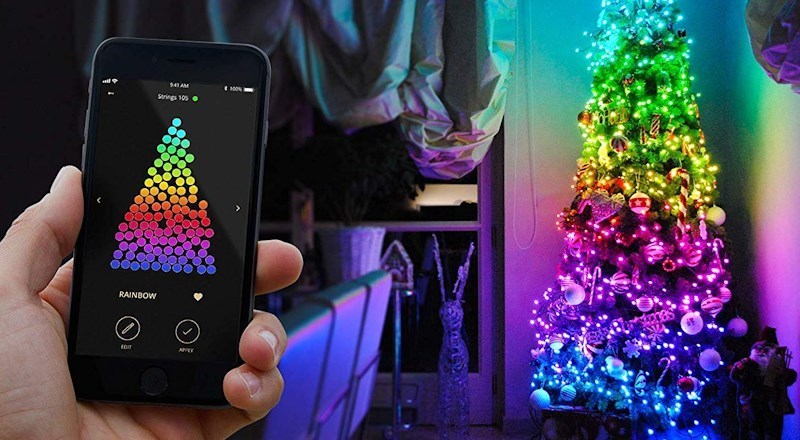 Impress your friends and family this festive season with these customisable Twinkly App Controlled Christmas Tree Lights. These lights have an unlimited number of patterns and colours to choose from and you can even create your very own effect from your tablet or mobile. This intelligent technology will recognise the positions of each LED!
DECORATE - Unbox and decorate your Christmas Tree with Twinkly lights, just the way you are used to doing.
DOWNLOAD APP - Download and install the Twinkly app from the Apple App Store or Google Play Store.
MAP THE LIGHTS - The true power of Twinkly technology lies behind its innovative Computer Vision feature. The app is able to detect the exact position of every single LED through your smartphone camera. After you are done decorating, simply snap a photo in the app to map your environment and create breathtaking effects with perfection and ease.
PLAY EFFECTS - Choose from a huge gallery of eye catching effects and light up your Christmas tree with animations never seen before.
EDIT EFFECTS - Each effect can be easily customised by changing the speed, colours and other key parameters of the animation.
CREATE YOUR OWN - You can easily create your own custom effects. Choose the colour you like and draw whatever your imagination desires!
MUSIC SYNC - Each animation can be activated to be music-sensitive. Choose your effect, pump up the volume and enjoy!
HOME WIFI - You can easily configure each Twinkly device to join your local WiFi network. This way you can have full access to your Twinkly from a single screen and control them individually.
JOIN - This grouping option is designed for big arrangements. You can literally join more Twinkly devices together and use them as one device. Do you want to impress your friends with a super-lighted tree and you think you need at least 500 lights? No problem: get 3x Twinkly 175 LED, join them together and run a incredible 525 LED Twinkly tree!
SYNC - This grouping option is designed for managing multiple products together and keep them in sync. Do you have 3 Pre-Lit Christmas trees and you like to make with them a spectacular scenographical effect? Create a group with the Sync option. Each effect you choose will be simultaneously played on all the trees.
Find these impressive lights in store at our Bagshot branch, order them online for nationwide delivery or order online for collection at Bybrook Barn & Shepperton.