Penn Parcel Boxes - Direct Dispatch from Longacres.co.uk
Publish Date: 20/12/2021 10:00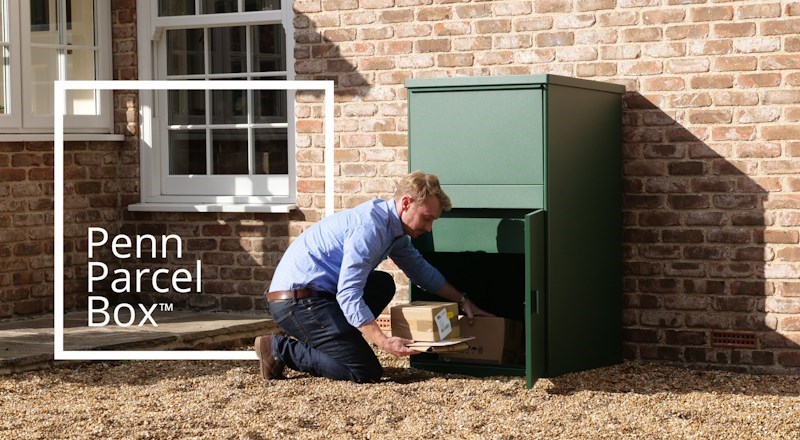 Find them online here with FREE Delivery!
Secure, safe deliveries – every time
Penn Parcel Box shopping cabinets are the ideal choice for a totally secure way to receive letters, parcels and boxes when you're out or can't get to the door.
The weather resistant containers come pre-assembled and install quickly and easily, either by simply bolting to a concrete surface or by using interior weights. This makes Penn Parcel Boxes perfect for residences, offices, public areas or communal interiors.
How It Works
Deliveries are placed through a swing-open hatch at the top of the box into a loading bay. When the handle is released, the cantilevered bay floor swings down, allowing items to move securely into locked storage below. This system ensures that items cannot be accessed from the entry hatch and offers the peace of mind security that deliveries are safe.
SAFE DELIVERIES 24/7
The Penn Parcel Box can be securely installed to porches, paths, gardens, gateposts and driveways – making it ideal for home deliveries when you're not at home or can't get to the door, or if you prefer contactless deliveries. Couriers simply drop your package into the box – where it's safe until you're ready to collect it.
SECURE
The clever two-stage security system keeps your deliveries safe. The entry hatch is designed to lower items down to the secure cabinet and prevent them being pulled out, while the robust lock can only be opened with the key provided.
WEATHERPROOF
The Penn Parcel Box parcel is tough – its steel frame is treated with a robust weather resistant powder coat to keep it protected from the elements. Not only that, but the seals are also crafted with weatherproof materials, so it's really built to endure.
PBX1 Dimensions:
Width: 516mm / 20.3in
Height: 1021mm / 40.20in
Depth: 446mm / 17.6in
Weight: 34kg / 75lbs
Max Parcel Size: 420 x 240 x 360mm (16.53 x 9.44 x 14.17in)
PBX2 Dimensions:
Width: 723mm / 28.46in
Height: 1300mm / 51.18in
Depth: 732mm / 28.2in
Weight: 72kg / 158.7lbs
Max Parcel Size: 600 x 300 x 550mm (23.6 x 11.8 x 21.6in)
Find them online here with FREE Delivery!