Nominate Your Local Care Home & Win A Luxury Christmas Hamper
Publish Date: 06/12/2019 11:00
This Christmas we're offering your local care home the chance to win a huge luxury Christmas hamper for all the residents and staff to enjoy!
To nominate them, all you have to do is head to your local Longacres Facebook page and comment with the name of the care home on the competition post - it's as simple as that! At the end of the competition we will use a random number generator to select our winner. That means the more people who nominate their local care home, the better chance they have of winning!
This competition is running on our Longacres Bagshot, Longacres Bybrook Barn, Longacres Chelmsford and Longacres Shepperton pages, with a Christmas hamper up for grabs on each page! Be sure to head to your local Longacres Facebook page to enter - and good luck!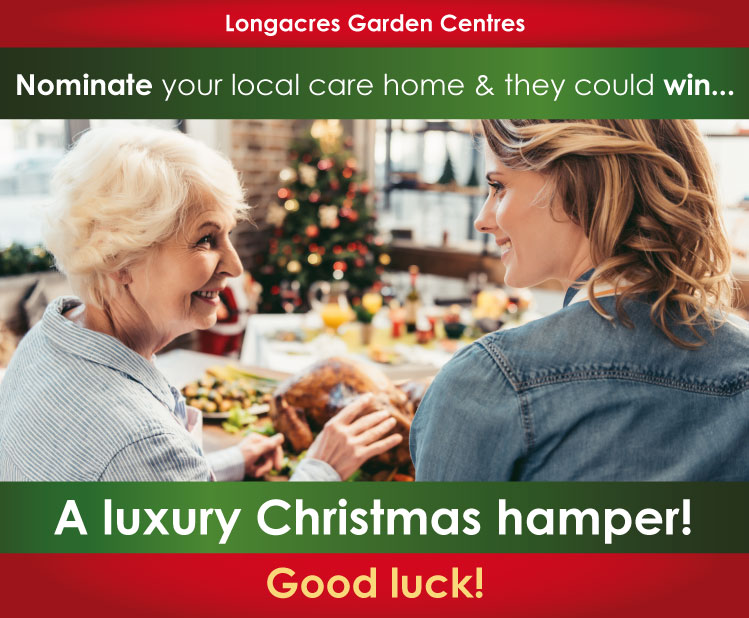 This competition starts at 19.00 on Friday 06/12/19, so be sure to take a look at your local Longacres Facebook page then! Good luck everyone!
The boring bit - the winning care home must be within our local delivery catchment areas. If the winning care home is not within our local delivery catchment area then it will be given to the next eligible winner. Nomination must be submitted by 23:59 on 15/12/19 and we will announce the winner on the 16/12/19. Only one winner will be chosen per store (Bagshot, Bybrook Barn, Chelmsford & Shepperton) We will contact the winning care home privately after the competition has ended. Judges decision is final. Duplicate entries may be disregarded and your first entry will be the only to count. No "Like" or "Share" is required for entry to this competition but it is suggested. You can also submit your entry via competitions@longacres.co.uk