Longacres Garden Centres Guide On Making A Buttonhole
Publish Date: 06 November 2018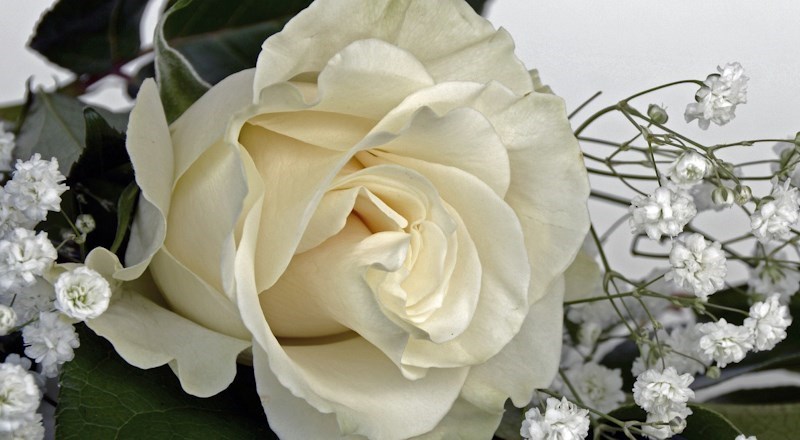 Here is our handy guide on how to create your very own buttonhole for a wedding, prom or any other formal occasion. Don't forget, you can buy all the essential materials at Longacres Garden Centre or speak to a member of floristry staff who can create a stunning buttonhole for you.
You Will Need: 1 x Rose, a stem of foliage, a stem of gypsophila, thick florist wire, thin florist wire, florist tape, scissors, thin ribbon and a pin.
Step by step guide:
Cut your rose at an angle, leaving approximately an inch of the stem
Remove any damaged outer petals and remaining foliage
Cut your thin florist wire into approximately 5, inch long sections
Bend each section of wire into small hooks
Use these hooks to pin the rose's sepals to the rose
Insert your thick florist wire through the centre of the rose's stem. You want to push the wire through the whole stem and into the rose head but not so far that you can see the wire when looking at the rose
Insert your thin florist wire through the hip of the rose
Bend both sides of the thin wire down and use one end to wrap the wire to the hip and to the thick wire
Now use your florist tape to cover your wires. You may want to do more than one layer of tape. *Florists tip: stretch out your tape as you use it*
Pick off approximately three leaves of foliage. Here I've used hard ruscus
Stitch one stitch with your thin florist wire through the centre of the leaf starting and ending at the back of the leaf
As with the rose, bend the ends down, wrap around and tape. Do this to all of your leaves
Now create a small bundle of gypsophila
Bend approximately an inch of your thin florist wire and hold against the stems of your gypsophila bundle
As with your rose and leaves, wrap one end of the wire around the other as well as around the stems of your gypsophila, and then tape
Now place all of you items together. I would recommend one leaf and the bundle of gypsophila to be place off centre, towards the front of your rose, with the other two leaves to be used to back your buttonhole
Once happy with you positioning, tape in place
You can now choose to bind thin ribbon or twine over the florist tape
Attach a pin so it can be secured to your clothing
Enjoy your completed buttonhole!
Take a look at our handy video for even more help creating your buttonhole: