BBQ Courses Certified by Weber - Cooking Events at Longacres Bagshot
Publish Date: 10/05/2018 12:00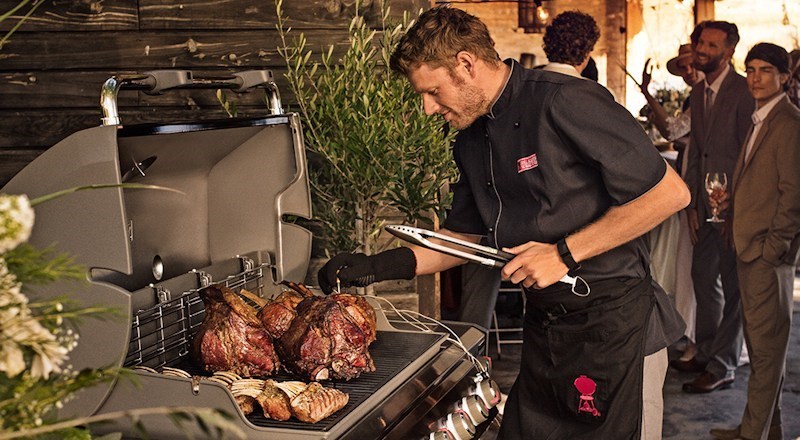 Spend £100 or more on Weber online and book tickets to one of our BBQ Courses Certified by Weber at the same time to receive £20 back off your ticket price! Full T&Cs at the bottom of this blog article.
We are offering you the chance to join us on one of our special 3 hour long barbecue classes, involving a range of Weber barbecues, some amazing food and instruction from a Weber Certified Grill Master!
With these unique events we are offering you the chance to throw on an apron and get stuck in cooking! You'll be cooking your very own three course meal, along with a range of snacks, and learning some of the tricks of the trade on a huge array of barbecues, giving you the know how on roasting, grilling, smoking and baking on your own Weber BBQ at home.
Each of these events are limited to 20 people to ensure that you are getting the one-to-one help you need to cook on your barbecue, so if you're looking to learn and get involved then be sure to book your tickets now!
What you'll be cooking:
Starter: Lime and honey-marinated smoked fish with grilled vegetables and smoked garlic aioli
Main course: Pulled chicken burgers with bacon jam and served with corn on the cob
Dessert: Sweet pizza with grilled pears
Snacks: Smoked baby back ribs, steak and roast pork belly
What you'll get on the day:
A full three hour course with one of Weber's top certified grill masters
A chance to try our range of Weber gas & charcoal barbecues and smokers
An opportunity to try a range of our new Weber accessories
A FREE Weber Backyard Hero apron for you to take home
A certificate on course completion
As many tasters as you can handle
A recipe booklet to take home with you
A chance to ask as many questions as you like and get tips throughout the event
And most importantly – BBQ skills for life!
Buying tickets: Please note that these tickets cannot be sent, so make sure you select Bagshot collection on the day of the event to avoid any unnecessary postage charge. Tickets can be collected prior to the event from our refund desk if required as a present; please select appropriate collection date and contact us after purchase to arrange. Tickets are strictly limited to 20 per event, so to avoid disappointment please do book now. Tickets are not available on the day
Event dates: We have a total of 4 events happening on Sunday 3rd June 2018, Sunday 1st July 2018, Saturday 4th August 2018 & Sunday 5th August 2018. UPDATE - We've added an additional date on Sunday 29th July 2018 due to popular demand!
What to wear: This will be an outdoor event, so please dress appropriately for the day's weather. The show must go on and we will be firing up the barbecues come rain or shine.
This is the most hands on demonstration that you'll ever attend, with some of the best Weber barbecues and cooks in the world!
From Weber: Bring your partner, best friend, adult children or barbecue buddy along to get new inspiration for your barbecue evenings on the patio, try out new barbecue accessories and share a fun experience. BBQ courses at your retailers involve a mix of practical instruction at the barbecue and demonstrations of techniques and products by the grill masters. During the course, the food that is cooked by the teams is evaluated by the grill masters and enjoyed by the participants.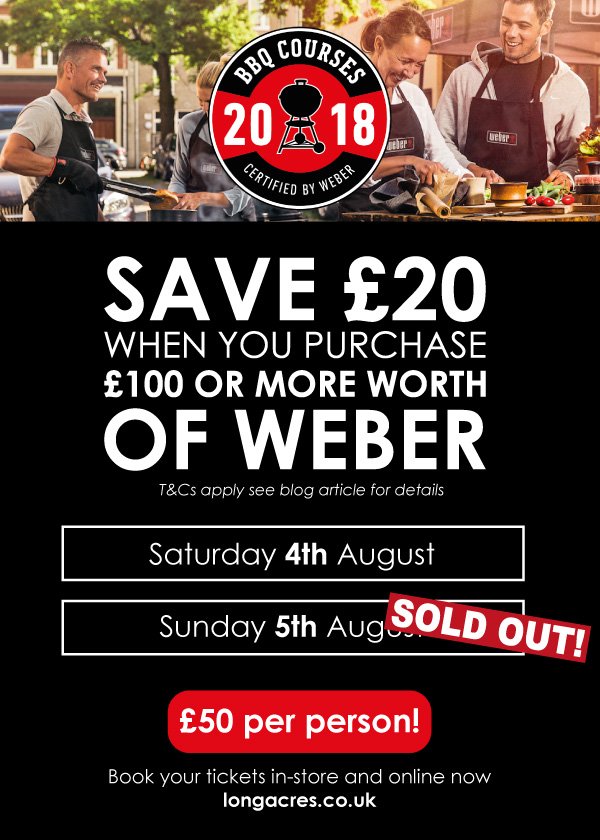 T&Cs and how to claim your £20 rebate! £100 spend on Weber is exclusive of price of ticket and must consist of physical products. We cannot provide you with rebate unless informed (as follows:) To receive your £20 rebate: 1. Purchase £100+ worth of Weber products online at www.longacres.co.uk and tickets to one of our Weber events in a single transaction; 2. email a copy of your order confirmation to customerservices@longacres.co.uk to inform us of the order; 3. we will review your order and refund £20 of your total to the account used to pay for the order if it meets the above stated criteria; 4. join us at our Weber event!