What to do in your garden - August 2017
Publish Date: 27/07/2017 14:57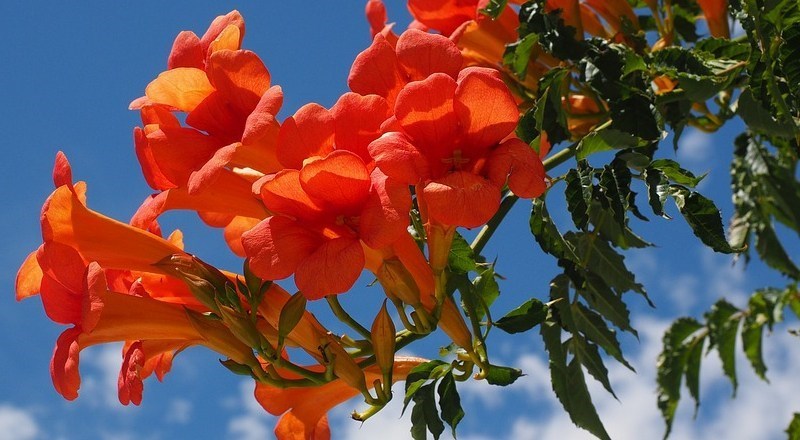 Late summer is the time to continue enjoying all that you've grown, and relax and enjoy a stay-cation at home. Here are our hints and tips on what's looking good right now and how to keep your garden blooming for as long as possible.
Deadhead (remove finished flowers, cutting to the next leaf below, where you will often see tiny new buds appearing) and feed flowering plants regularly to encourage more blooms - we have numerous liquid fertilisers which are all suitable: from Levington's Tomorite, to Miracle-Gro and Gro-Sure.

Chilli and pepper plants – in patio pots or hanging baskets – full of delicious sweet or fiery hot peppers. We still have fruiting tomato plants in containers, plus six packs of salad leaves and lettuce for late summer salads.

Rockery plants or alpines are looking fresh with a huge range from succulents to sedum, dianthus to campanula. Always something in flower for an instant boost to a sunny spot in your containers or borders.

Keep a close eye on watering your plants, especially recently planted perennials and shrubs, and all your containers and hanging baskets. A thorough soak a few times a week is better than watering little and often. Windy weather conditions make plants dry out quickly, and even if it rains it may not be enough - particularly patio pots and hanging baskets.

Dahlias are looking fantastic right now - they will flower until the first frosts, and single-flowered varieties attract pollinating insects so are a great addition to the garden! Deadhead and feed regularly for the best results.
Ornamental grasses - we have a fabulous selection including: Pennisetum, Miscanthus, Carex, Imperata and Festuca to give colour and softness throughout late summer and autumn.

Cacti and succulents are the hottest gardening trend and we have a fantastic selection in glass jars to wooden boxes, terracotta bowls and ceramic pots. Easy to care for and make great gifts! A great gift idea - or why not treat yourself? Perfect for sunny windowsills or a bright spot indoors – easy-to-grow houseplants which need little maintenance

Sunflowers bring a cheerful pop of colour to any garden – and we still have plenty of fuchsia, gazania and cosmos which will flower until the frosts.

Shrubs in flower: plenty to choose from including hydrangeas in every colour, lavender, hebe. Come in to our garden centres for inspiration for what looks good at this time of the year.

Holiday houseplant care: if you're going away for a week or two and need some ideas on how to ensure they survive. Obviously give plants a good water before you go away, or ideally ask friends or neighbours to pop in once a week to keep an eye on them. Take care not to overwater cacti and succulents as they hate it and may die! Moving plants away from sunny windows will make sure they don't dry out as quickly as usual. A tray with capillary matting will help keep plants moist. We also sell individual watering cones which are useful to keep a regular supply of water to larger plants.
Rambling roses can be pruned at this time of year once they have finished flowering; cut back a proportion of flowered stems to make way for new shoots which will flower next summer. Side shoots can be pruned back by about a third. To renovate an overgrown plant, you can cut one in three of the older stems to the base. It sounds harsh but will encourage strong new growth for next year.

Summer-flowering climbing plants – have a look at what we have in stock to plant this year for an even better display of flowers for next year. Here's a pick of our favourite: honeysuckle, summer-flowering clematis, Campsis, Solanum crispum 'Glasnevin' (potato tree), passion flower, star jasmine (Trachelospermum jasminoides), climbing hydrangea great for a shady wall -(Hydrangea anomala subsp. petiolaris ). Campsis 'Mme Galen' is a vigorous climber which has huge orange trumpet flowers which look spectacular at this time of year.
Herbaceous plants are looking great with some gorgeous late summer flowering additions such as phlox, Leucanthemum, Gaillardia, Heuchera, Gaura and Sedum.