The Weber iGrilll at Longacres
Publish Date: 08 June 2017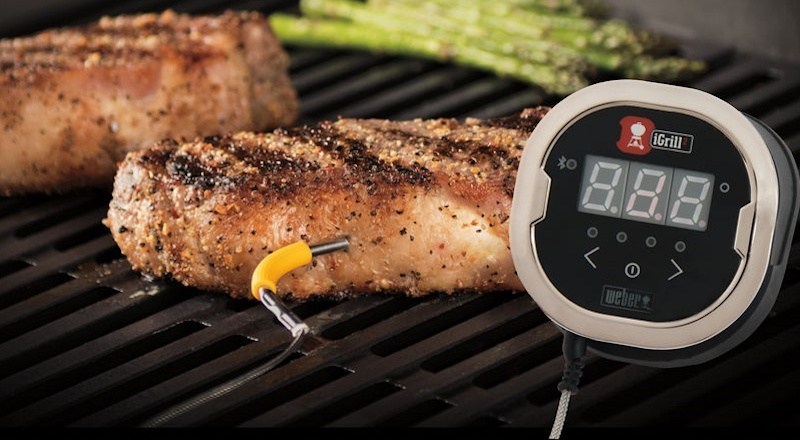 Whether you are a backyard hero or part time cooker, the Weber iGrill is the ultimate Bluetooth thermometer to help make your grilling a whole lot easier and more convenient! Simply download the Weber iGrill App onto your Bluetooth enabled Apple or Android device and you are all set to get going. With its state of the art features and pre-set temperature guides the iGrill is guaranteed to help you cook that perfect piece of meat every single time.
With the Weber iGrill you can track the progress of your meat without even having to lift the lid with the clever iGrill app – not only sure to impress your friends and family but also create a perfectly cooked meal every single time. You can enjoy the company of your guests without worry as your Weber BBQ does the work for you.
The Weber iGrill app dashboard will help you track just how done your food is, you can set up grilling notifications, select pre-set grill times and take advantage of the huge array of other features the app has to offer. In addition, you can also cook a feast and share your results with other iGrill users using its social media tool (the perfect excuse to get boasting to a likeminded audience)
Be sure to also take a look at the huge array of pre-set alerts which include everything from medium-rare steak all the way up to a whole leg of lamb! If you know the exact temperature of what you are looking to cook then you can also set your very own alerts and save them in app, so you get your meat exactly how you like it every single time.
We here at Longacres have 3 Weber iGrills for you to choose from:
The Weber iGrill Mini – An ultra-compact Bluetooth thermometer with a single probe. Comptable with both Ios & Android.
The Weber iGrill 2 – Webers ultimate all round iOS & Android compatiable Bluetooth grilling thermometer with a 4 probe capacity, an illuminated display and a touch interface.
The Weber iGrill 3 – This top of the range iGrill is for exclusive use with the Weber Genesis II & Genesis II LX. Simply plug into you Genesis BBQ and connect up to 4 probes to monitor you roast, chicken or steak all at once from your Bluetooth device.
You can find our range of Weber iGrills online by clicking here.