The Longacres Shelf Elf is here
Publish Date: 01 October 2016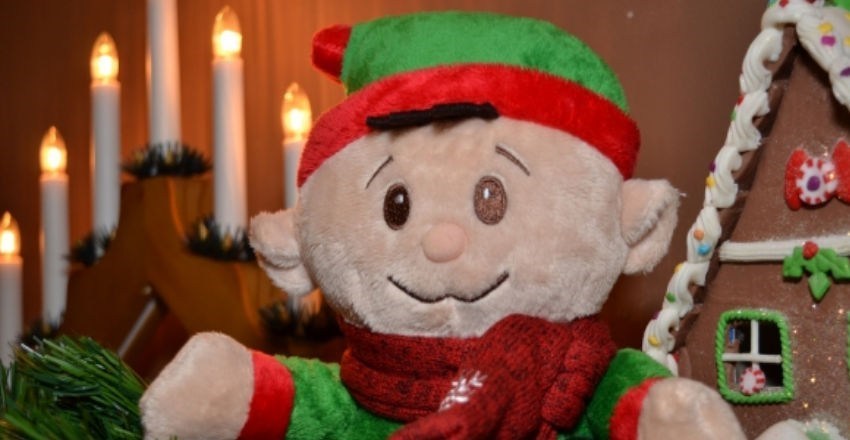 We are so pleased to see that you have found the Longacres Shelf Elf page! There is quite a lot to read and there are some big words used, so make sure to politely ask your mummy, daddy or guardian to read it out for you.
We've recently received this email from Santa addressed to all of the good boys and girls who have taken home a Longacres Shelf Elf:
Ho, ho, ho! It's almost Christmas and it's getting very busy for us all up here at the North Pole what with finding out what everybody wants for Christmas, making toys, wrapping presents and getting back in shape ready for the big day (I had an awful lot of mince pies and brandy after Christmas last year which has taken its toll on my tummy!), so to help me and all the busy parents around the world I've decided to send out my team of hard-working elves to join you and your family in your home until Christmas Eve.
As soon as you get home, be sure to give your cuddly Elf a name (he is your adopted Elf after all!) and introduce him to your mummy, daddy, guardian, brothers, sisters, dog, cat, goldfish and cuddly toys and don't forget to give them a guided tour. Remember: your elf is very small compared to you and it would be quite easy for him to get lost in an unfamiliar giant home!
It's not all play though - your Elf has an assigned job to do for me!
Each day your Elf will be taking up a different spot in your home and keeping an eye on everything to make sure all is running smoothly to help your parents. Your Elf will then be borrowing your mummy, daddy or guardian's phone or computer after you've gone to sleep to let me know all about his day and what he's seen which will give me an idea of what to bring you for Christmas. Be careful though - I may from time-to-time ask your Elf if he's seen any naughty behaviour – so try your very best to be really good at all times!
My team of elves all LOVE to be cuddled, listen to stories, go on adventures and hear your Christmas wishes, so spend some quality time with him each day – but always be sure to take him back to where you first found him that morning or afternoon or I won't hear about all your good behaviour (if you find him that day at all – they really are experts at their favourite game of hide-and-seek!). Your Elf will then be returning to the North Pole after you've gone to sleep on Christmas Eve to help me deliver the presents around the world to all the good boys and girls. You won't be saying goodbye forever though – he is YOUR adopted elf and will be back on duty again next year!
Well that's all from me for now – I must dash as it's almost time for the reindeers' afternoon carrots and sugar cubes and they get grumpy if it's late. Just remember - be good and take care of your Elf! I shall look forward to hearing his daily reports starting tomorrow night.
Santa, Rudolph, Dasher, Dancer, Prancer, Vixen, Comet, Cupid, Donner, Blitzen,
and ALL of the elves here at the North Pole
Santa also attached lots of photos of the Longacres Shelf Elves on some of their previous adventures to his email: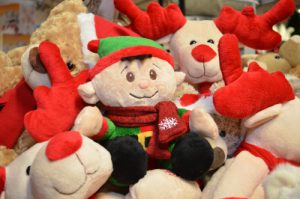 Elves just LOVE spending time with other cuddly toys and sharing their stories with each other every night!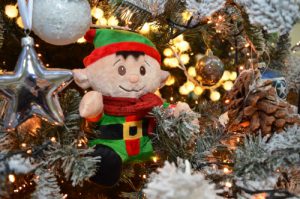 You might sometimes find your Elf hidden in your Christmas tree - they get a great view high up there!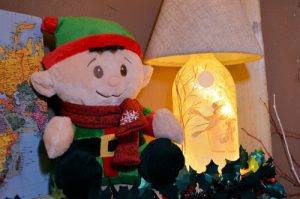 Santa might ask your Elf if you've been keeping your bedroom clean and tidy!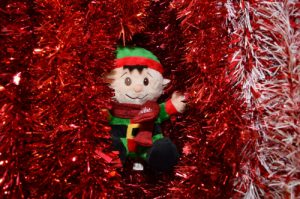 Your Elf won't always make it easy for you to find him - he might be in a most unexpected place!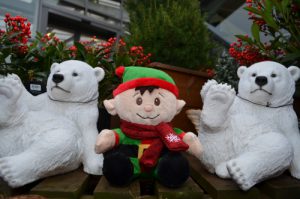 Elves spend a lot of time in my den at the North Pole, so make sure to take him on lots of adventures outside too. His scarf and hat will keep him warm!