The Longacres Plants Departments Favourite Trees
Publish Date: 03/10/2017 10:50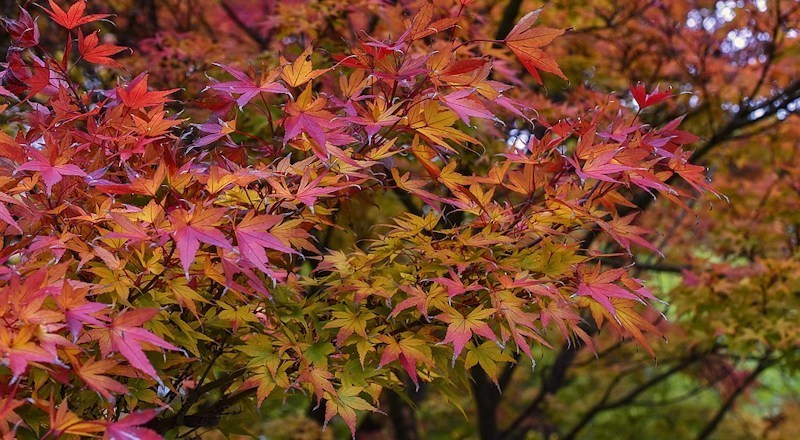 Now is the ideal time to plant a tree in your garden. The soil is warm in the autumn, which encourages new root growth before winter, ensuring your tree becomes established over the winter months. We've asked our plant team which is their favourite tree and have come up with a really diverse and interesting list as follows:
Rob has chosen a Cotoneater 'Cornubia' -this hardy, semi-evergreen tree has white flowers in the summer which bees love, followed by attractive red fruits over winter. It will grow in any position and isn't fussy about soil type – a really useful small tree growing up to 6 metres.
Harry has a fabulous choice; the evergreen Arbutus unedo or strawberry tree – lovely glossy foliage and attractive bark when mature. Panicles of white flowers in spring followed by strawberry-like autumn fruits.
Steve's favourite is Prunus 'Tai Haku' – Japanese Great white cherry. It can grow rather large for the average sized garden, (up to 8m tall and over 8m wide broad, spreading head after 20 years) but is a magnificent tree with stunning single white flowers and rich coppery red young leaves, which later turn green. Derek has also chosen a cherry: Prunus sargentii – considered one of the best, with single pink flowers and stunning autumn colour.
Mike's favourite is Silver Birch – Betula pendula because of its striking white bark in winter. Japanese Maples are Kevin's choice: Acer palmatum 'Bloodgood' is a winner with reddish-purple leaves which turn brilliant red in the autumn.
Cathy has selected an unusual but beautiful tree: Davidia involucrata– "pocket handkerchief tree" – more suitable for a country estate than a normal sized garden (it grows to over 12m) but is a real beauty. Its large white bracts in spring really do hang down like handkerchiefs.
Linda loves the striking red and orange autumn colours of Liquidambar styraciflua 'Worplesdon', the sweet gum. It has attractive maple-like leaves. Hannah adores the remarkable Gingko biloba or maidenhair tree for its unusually shaped foliage and gorgeous yellow foliage in autumn. The ginkgo is a large tree but absolutely superb if you have space for it.
Chris's favourite is Gleditisia triacanthos f. inermis 'Sunburst' – commonly known as honey locust, it is a fast growing tree with foliage that starts off golden yellow in spring, maturing to green, then back to yellow in autumn.
Tracey and Stuart both like Salix caprea 'Kilmarnock' the small weeping willow with pretty pussy willow, ideal for a container or small garden, Louisa chose Salix 'Flamingo' for its pretty variegated foliage with a pink tinge.
Adam loves crab apple trees because they are great for wildlife: Malus x robusta 'Red Sentinel' has white flowers in spring and red fruits which stay on the branches throughout winter.
Nicola loves Pyrus salicifolia 'Pendula' the weeping silver pear, because the narrow silvery grey foliage is so pretty and it has the added bonus of white flowers in spring followed by small ornamental pears in the autumn.
Quite a few of the team also love rowan trees (Sorbus) because they have flowers in spring, autumn fruits for the birds and often gorgeous autumn colour so they have many attributes. Paul likes Sorbus 'Joseph Rock' – orange, red, copper and purple autumn colour. Ernie's favourite is Sorbus aucuparia the native rowan or mountain ash. Julie likes Sorbus aria 'Lutescens' the whitebeam, for its beautiful silver foliage, white flowers in spring and orangey red berries.
We hope that's given you some inspiration to plant a tree of your own, no matter what size garden you have!