Enjoy the Sun In Summer 2017
Publish Date: 08/06/2017 13:25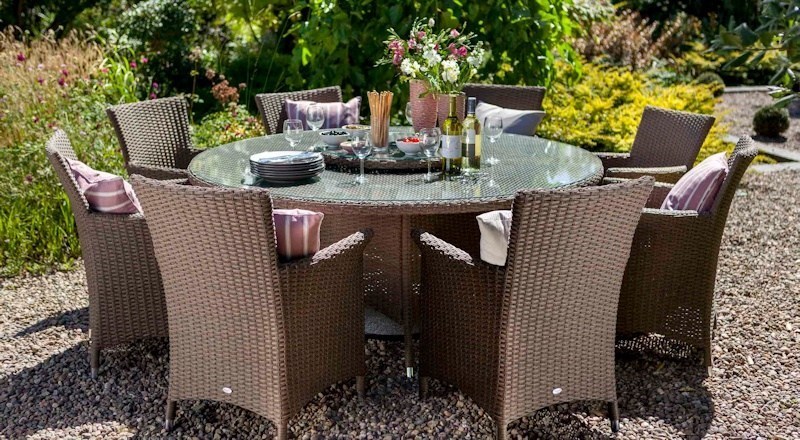 If you haven't already got yourself a furniture set for summer, then now is the time to snap one up to enjoy the sunshine and some alfresco dinning in style before we sell out! You'll also be happy to hear that we have reduced all of our Firmans sets to help you make the most of summer without hurting your pocket – you can find our range of Firmans furniture by clicking here. Don't forget - we also have free delivery on all furniture sets over £250 no matter where you'd like it delivered in the UK!
We have a huge range of dining sets with everything from Tea for Two sets all the way up to massive 8 seater sets. With a choice of 4 big end brands including Firmans, Hartman, Lifestyle Garden & Supremo you are sure to find something perfect for your garden that is fit for purpose. Get out there and get eating! View our range online by clicking here.
As the name suggests, a lounge set is the best way to lounge around in the garden and really make the most of the weather in some great company or curled up with a great book. With names like Firmans, Hartman, Lifestyle Garden & Supremo offering a huge range of variety depending on tastes, preferences & the space available, you will find something you can enjoy all summer long. Find out more by
clicking here
.
With everything from sofas to hammock and loungers to benches you'll be able to find something to kick back and relax in the garden on when the sun is shining. We have hammocks & loungers from Glendale and a huge range of loungers, hanging chairs, tea for two sets, benches & sofas from our favourite Firmans, Hartman, Lifestyle Garden & Supremo. Get browsing and get relaxing this summer. Take a look online by clicking here.
Whether you are looking to keep up with the latest trends, looking to replace a worn out cushions or just changing the feel of you furniture set, we have something to give it a new lease of life! Bring that set back to its former glory and enjoy the sun sitting on your bum. Take a look online by clicking here.
For when the sun gets a little too much and you are looking to cool off in the shade, you are going to need one of our parasols or gazebos from big names like Glendale, Lifestyle Garden & Sturdi. If you are just looking to cool off around the table this summer, then you'll need to take a look at our high quality parasols from Lifestyle Garden & Sturdi; but if you are looking to entertain a big group or are holding a party then the best way to get some shade then you need to be looking at our stunning gazebos. Find both online by clicking here.
When the sun goes down and the nights get colder & wetter, you'll need something to keep your set in tip top condition for next year – take a look online at our range of furniture covers to do just that! Find a cover that fits by viewing our range online by clicking here.
You can view our entire range of furniture by taking a look at our Garden Furniture department by clicking here - be sure not to delay as stock is selling fast!