Gardening at Purkiss Cottage - first blog post!
Publish Date: 31/03/2014 10:48
Hello, this is the first gardening blog for Longacres from Mike at Purkiss Cottage (there's a picture of the cottage following this post). I am the part time gardener of five years at this beautiful cottage located within the New Forest. A 1940's cottage with over two acres of land including large lawns, three greenhouses, a small vegetable plot and a variety of fruit trees. A growing Huchera collection, herbaceous borders and a fantastic fully established purple Wisteria. With chickens, ducks, alpacas, dogs and cats there is always a job to do! This was the first weekend since before Christmas that there was a chance to get out in the garden and start on the growing list of jobs. Without having to get wet feet as half of the garden is still underwater as I'm sure a lot of you will also be experiencing, the potted roses were in desperate need of attention. Growing roses can be seen as a bit of a chore but they provide months of beautiful flowers and fantastic scents to float around the garden, so in my opinion a must for every garden and not as difficult as it is rewarding to grow. This weekend I concentrated on the pot grown collection. Firstly I pruned out any dead wood or crossing stems. Then cut back all stems to an outward facing bud to around 10-15cm from the base. You may think this is rather early but David Austin the famous rose grower used to escape the in-laws on Boxing Day by getting out in the rose garden to prune his collection it is rumoured. So whilst we are having such a mild winter I decided to make a start. Next after pruning each rose I took the rootball of each rose out of their pot. Removed any suckers pushing through and discarded of all of the weeds. Gently brushing away to remove old soil I then repot the rose using plenty of good drainage and a good quality compost. My preference is to use a specific rose, tree and shrub compost mixed 50/50 with
John Innes No 3
for permanent planting. This will provide the best water and nutrient retention for roses grown in posts. Roses are amongst the hungriest plants in the garden and need plenty of regular feeding throughout the seasons. So to give these roses the best chance I decided to use a new product "Gro-Sure Planting Magic". This will help to provide a mix of essential ingredients to give them the best start. Dried seaweed alongside fast acting nutrients and a slow release plant food with little water storing granules added to hold and release water close to the roots when required. This eliminates the risk of under or over watering. A really simple new product to use, just add two handfuls before putting the rootball back into the pot. Then backfill the pot firming down the compost as you go. It can also be used all around the garden in any situation including ericaceous plants and with fruit and vegetables. It will then feed the plant for up to six months. These roses will also need additional feeding during the season to maintain good growth, strong flowers and help build up a good resistance to pest and disease. So I recommend using Westland rose food enriched with horse manure. Using a rose food containing horse manure provides all the usual major and minor nutrients that you find in a good rose food. With the added manure a traditional gardeners favourite with growing roses brings the slow release of essential trace elements to the soil. Healthy soil means healthy plants. I will feed all of the roses with a handful of food mid summer to keep them happy. Be careful not to feed too late in the summer as this will promote growth which maybe vulnerable to frost damage in the autumn. A regular spraying programme beginning in early spring when fresh leaves appear will help prevent pest and disease during the spring and summer. A systemic insecticide and fungicide like Rose Rescue used every two weeks will keep your roses healthy throughout the summer. Next weekend I will be planting out strawberries grown from last years plants and begin to start sowing tomato and pepper seeds. I will choose some seed potatoes to begin chitting ready for planting out after the risk of frost has passed. Best to buy early to get the best choices in varieties. This Longacres Blog post was contributed by Mike Storer.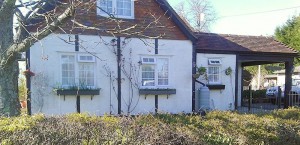 Purkiss Cottage