Signs of spring - blooming great bulbs!
Publish Date: 10 February 2014
February is a characteristically cold month, but this year the pattern of mild, wet and windy weather has continued - how miserable! There are however, an abundance of bulbs that are beginning to bloom like crazy and will provide your garden with a beautiful array of colour all spring. All the bulbs below are available, in the green, in store now!

Daffodil (Narcissus Species) Daffodils are one of the most recognisable spring plants. With their showy, bright and sometimes fragrant blooms these are must have spring bulb! For a beautiful, multi bloom flowered daffodil go for 'Tete-A-Tete', perfect for containers. Or if you prefer something a little more showy how about 'Rip Van Winkle' with its unusual flower shape!

Top Tips for Daffodils
Plant in a sunny position for the best flowers, but daffodils will tolerate partial shade.
Make sure the soil is well-draining, but don't allow to get dry!
Leave the flowers and foliage to die back naturally before cutting back to ground level.
Tulip (Tulipa Species) Tulips are arguably the best of the spring bulbs for colour. Available in just about any shade imaginable, Tulips have a diverse use in the garden, they can be planted in the beds & borders or can be planted in containers, coming back each year to provide you with an extravagant display of spring blooms! For a dwarf tulip that's perfect for containers choose 'Red Riding Hood' with stunning deep red flowers.

Top Tips for Tulips
Tulips need to be in a fully sunny spot to maximise flowering!
Ensure that your tulips are planted in nutrient rich, free draining compost.
Remove the flower after it has finished, but leave foliage to die back naturally.
Crocus (Crocus varieties) Another beautiful spring bulb which heralds the change of seasons with a stunning show of small, deeply coloured, white, blue, purple or veined flowers. These bulbs are great for naturalising within lawns or underplanting larger trees or shrubs.

Top Tips for Crocus
A great bulb to plant in dappled shade or, preferably, in full sun.
Can be grown in most soil types as long as it is well draining.
Keep an eye out for squirrels or voles digging the bulbs up after planting!
Why not treat yourself to some stunning spring bulb colour! Mix some tulips in with your planting or spice up your lawn with some crocuses! Plenty that you can do to add some colour to your gardens.

Daffodils: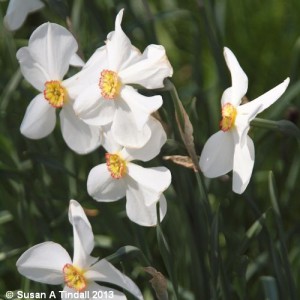 Tulips: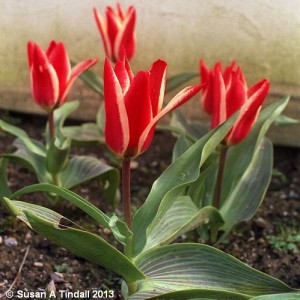 Crocus: