Key Points
Available for delivery anywhere in the mainland UK.

Order for collection at Bagshot, Bybrook Barn, Chelmsford or Shepperton.

Returns Policy
Click here for more information on returning this product
Product Details
WHY YOU NEED OUR REUSABLE CUP IN YOUR LIFE - 7 very good reasons!
Finally, there's a travel mug that's been designed with practical portability in mind. rCUP won't leak, ever. It keeps your drink hot or cold and you can pick it up without scalding your hand. You can easily open it with one hand and take a sip while you're on the move. And best of all, the drinking experience is great - you never have to drink your coffee through a tiny hole ever again.
1. Better for the world
Every purchase of an rCUP is funding a sustainable solution to global waste. The outer thermal insulation layer of rCUP is made from used paper coffee cups. Every one of us throws away 350 paper coffee cups each year on average. By switching to rCUP you save these from landfill and contribute directly to the recycling of the used coffee cups that slip through the net. Plus it's been designed for least 10 years use and is 100% recyclable in the UK's curbside recycling system.
2. A cup you really can recycle
There is a big difference between recyclable and actually recycled. Other reusable cups may claim to be recyclable - but they're often made from materials that you can't put out with your household recycling. For example, most local authorities can't process Silicon which features heavily on many reusable cups despite it being a recyclable material.
3. One-hand opening for life on the go
Our rCUP's innovative design makes it quick and easy to open and close with one hand. Just one press to open and one press to close. Perfect when you're on the go, on the phone or just juggling!
4. 100% leak proof
Functionality is everything. That's why we've designed rCUP to be completely leak proof. No more splashing yourself with hot coffee or tea as you run for the train or bus. No more bottom of the bag disasters. No more near misses with your laptop or phone. You can carry rCUP anywhere without spilling a drop and pop it into your bag with confidence.
5. No fuss drinking
When we set out to design the best reusable coffee cup, the first thing we considered was how to get rid of the drinking hole. Our travel mug allows a 360 degree drinking experience so you never need to locate the hole or check which side to drink from. It means it's perfect when you're rushing around, driving or chatting and also great for people with disabilities.
6. Best for coffee drinkers
Being able to enjoy the smell of coffee is an essential part of a good drinking experience. In fact our sense of smell is responsible for up to 90% of that freshly ground coffee taste. With rCup you get to release the coffee aroma without the spills. Our ingenious design allows you to 'open' the cup and drink like you would from your favourite mug.
7. Insulated reusable cup
Unlike many reusable coffee cups, rCUP is insulated so it's comfortable to hold and keeps your drink hotter or cooler for longer. In most cases your rCUP will keep your drink warm for over 90 minutes - plenty of time, even for the most slow-supping coffee drinker.
Instruction and care
Push open push close - rCUP® is open when the push button is in its down position and closed when raised. As a guide, when you can see the moulded line on the inside of the lid rCUP® is open.
Fill line - To avoid spillages when you put the lid on, ask your barista not to fill above the marked fill line.
Ouch - Hot liquid over 65°C can cause steam pressure to build-up inside a sealed cup. If the push button becomes stiff to operate due to pressure build up, loosen the lid first to relieve the pressure. DO NOT FORCE the push button as liquid could spurt out
Dishwasher safe (top shelf), easy to clean - rCUP® is only watertight if the seals and mechanism are kept clean. We suggest that you clean your cup after every use and can't be held responsible for leaks if foreign objects become trapped in the seal or mechanism. If needed you can pop off the push button for better cleaning access.
Colour: Cream & Black
Size: 8oz
Code: CB8
5060210003869
Reviews
Your Questions Answered
Be the first to submit a question, click the button to show the form.
You may also like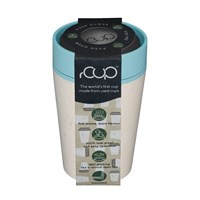 RRP Price £11.00
Our Price £8.99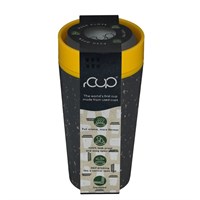 RRP Price £12.00
Our Price £10.99