Key Points
Available for delivery anywhere in mainland GB.

Collection from Bagshot, Bybrook Barn, Chelmsford and Shepperton stores.

Returns Policy
Click here for more information on returning this product
Product Details
The perfect gift for anyone who enjoys shopping at Longacres!
These vouchers can be used to purchase any goods in-store, from our range of cut flowers, trees, shrubs, bedding plants, bulbs, houseplants, pots, seeds, paving, water features, fencing, trellis', cards, gifts, toys, pet food, clothing and more!
Please note that these vouchers can be used IN STORE only.
Please note that all vouchers are subject to a £2.25 delivery charge. Standard delivery charges will apply if other items are included in the order. Order must be signed for by recipient.
Reviews
Your Questions Answered
£20
Q. How long does a gift voucher last
Answered by Longacres 11/7/2017

Longacres own gift vouchers have no expiry date.
Q
Q. Can these Longacre vouchers be spent at the Longacres in Bagshot?
Answered by Longacres 18/7/2017

Longacres vouchers can be spent in any of our stores - Bagshot, Shepperton, Bybrook Barn & Chobham.
General enquiry
Q. Hi Can these vouchers be used for fish and aquarium products at Bybrook please?
Answered by Longacres 3/10/2017

The Longacres £20 Gift Voucher can be used on fish and the aquarium.
Anonymous
Q. Can these vouchers be used in Bybrook Barn's aquatic section? This is the third time of asking. If I don't see a reply then I'll admit defeat and go and spend my money elsewhere.
Answered by Longacres 3/10/2017

Hi, yes you can use vouchers in the aquatics section, it's a part of Longacres.
Pauline
Q. How long should I allow for voucher delivery please? These are for a birthday, so I'd like them to arrive close to the day.
Answered by Longacres 26/10/2017

You can select a delivery day in the checkout process, so we can deliver on their birthday for you.
coe
Q. can these vouchers be used in the cafe
Answered by Longacres 28/11/2017

I'm afraid the cafe is a separate business and they won't accept these vouchers.
Andy
Q. Does "in store" mean that the vouchers cannot be used for online shopping? Is there a way we can send someone an amount to spend online (they are housebound)
Answered by Longacres 18/1/2018

At present the vouchers are in store only and can't be used online. It's a good point though, and we will look at vouchers for online spending.
Tracey
Q. Can I buy these vouchers in the store or is it online only? Thanks Tracey
Answered by Longacres 11/6/2019

You can purchase gift vouchers in store and online
Linda
Q. Can you put a message with the gift vouchers for delivery
Answered by Longacres 5/4/2021

Hello,
Yes there is a box where you can write a gift message once you check out
You may also like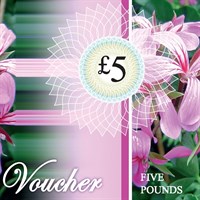 Our Price £5.00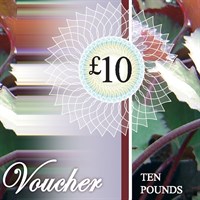 Our Price £10.00