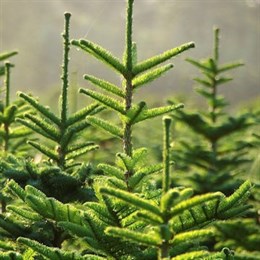 Real Christmas Trees
Buying your real Christmas tree for the festive period is an exciting day for the whole family, but picking the perfect tree can be a challenge. Here at Longacres we have an extensive range of pre-cut real Christmas trees and potted trees to choose from. Our fresh cut Christmas trees are available in Norway Spruce and Nordmann non-drop Fir, with each having something different to offer.
The Norway Spruce is a fantastic choice for those wanting to decorate their tree with carefully chosen ornaments. Their strong branches make the perfect place for hanging decorations and lights. However, the spruce is known to drop needles throughout the season, so do keep a sweeping brush on hand!
The Nordmann Fir is one of the most popular varieties of Christmas tree for the season, and is very popular for its 'no drop' needles, meaning you won't be spending the festive period cleaning the floors. This type of tree has a soft needle and full appearance meaning they are safe around children and perfect for decorating. Christmas trees are best recycled once finished with, where possible. We offer Christmas tree recycling at Longacres Bagshot!
For those wishing to add a Christmas tree to their gardens too this year, our potted trees are perfect for you! We have a choice of potted Blue Spruce or Nordmann Fir, which are both great to decorate and stand in a drive or porch for an extra touch of festive decoration. Plus, you can plant them in your garden at the end of the season to carry on growing.