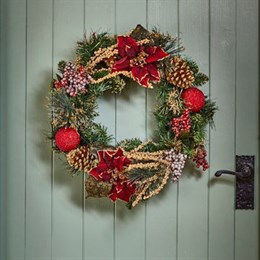 Christmas Wreaths & Christmas Garlands
Please note that our Tree Classics and Premier Christmas wreaths & garlands are now available for pre-order, and will be available for delivery or collection from Monday 19th October onwards.
Please ensure you select a delivery or collection date ON OR AFTER MONDAY 19TH OCTOBER. Place your order by 23:59 on Sunday 18th October to get 10% off!
Create the perfect festive atmosphere in your with one of our stunning artificial Christmas wreaths or garlands to go in your home. Perfect to decorate your home at Xmas.