Santa's Grotto at Longacres Garden Centres 2019
Publish Date: 01/11/2019 12:30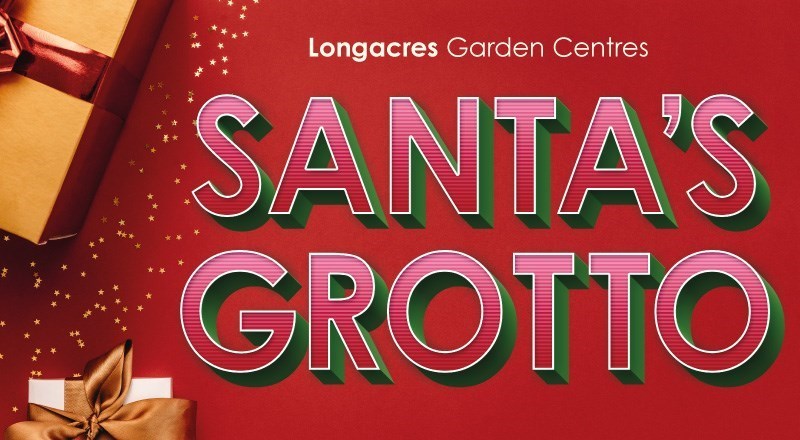 Tickets for Longacres Shepperton are only available on the day and can't be booked ahead of time.
We are pleased to announce that Santa will be back again this year and taking up residency in his hand built grotto at Longacres Bagshot, Longacres Bybrook Barn and Longacres Shepperton!
Booking in advance is strongly suggested as tickets for popular days and weekends tend to sell out fast. Walk ins on the day may be available, but only if there are spaces and we strongly advise booking to avoid disappointment. You can book any time prior to the slot starting.
So get your children scribbling down some ideas to give to Santa, and we look forward to seeing you soon!
Longacres Bagshot Santa's Grotto Opening Hours
Buy tickets for Longacres Bagshot online here!
This year the price includes entry to the brand new Winter Wonderland area at Longacres Bagshot, a festive activity with the elves (such as Christmas decoration making or decorating a gingerbread man) and of course a sit down & gift from Santa!
Each session will last 15 to 20 minutes approx. Important: Santa's grotto is in a NEW location this year - please follow signs from the main entrance through the store.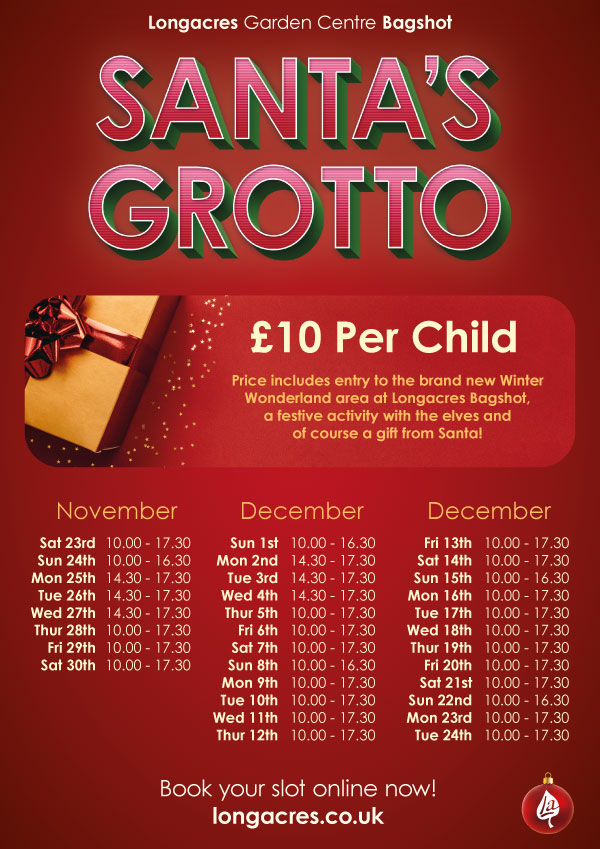 Longacres Bybrook Barn Santa's Grotto Opening Hours
Buy tickets for Longacres Bybrook Barn online here!
Sit down with Santa himself in his stunning grotto, let him know what you'd like for Christmas and pick up an extra special early Christmas gift! Each session will last 10 minutes approx.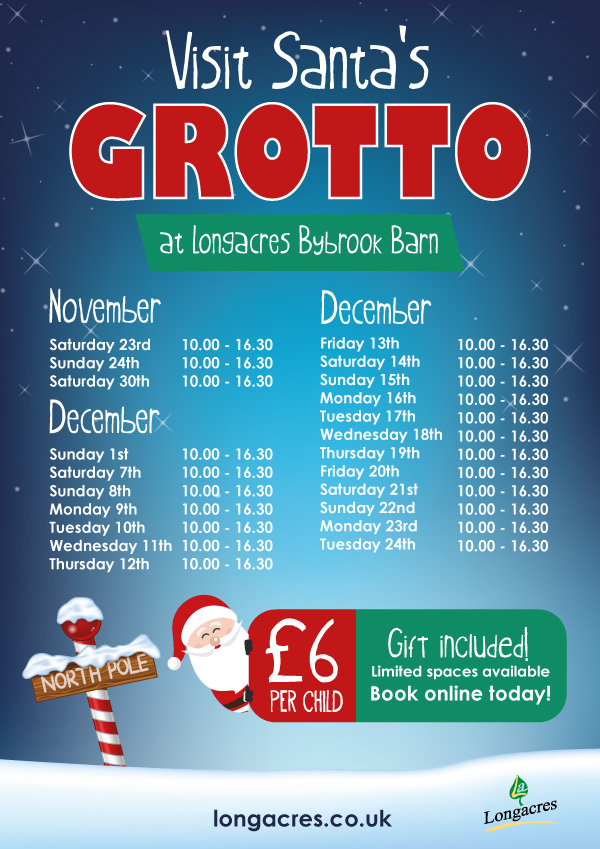 Please note that the Bybrook Barn Santa's Grotto is situated upstairs and is accessible by stairs & lift. Please email ahead if you have any special requirements or needs.
Please note that each Santa can see a maximum of 2 children at a time. There is no charge for adults. Our ticket booking system is being hosted by an external site; any existing Longacres accounts will not work with their website and you will be required to create one when booking tickets.