Longacres Bagshot Charity Christmas Open Evening 2018
Publish Date: 09/11/2018 08:45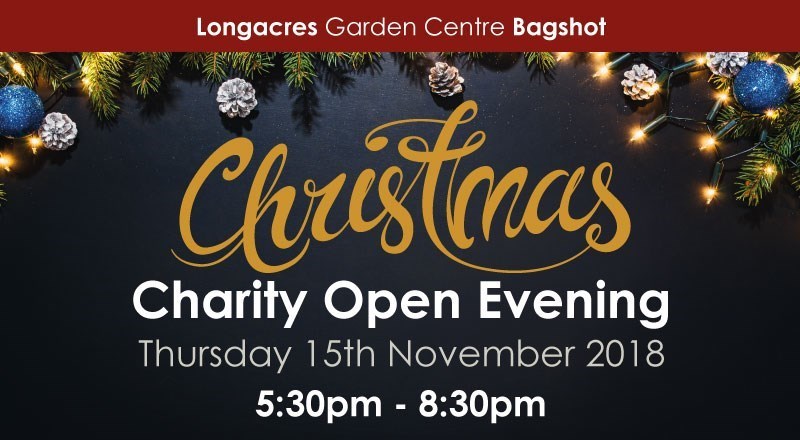 We would like to invite you all to the Longacres Bagshot Charity Christmas Open Evening on Thursday 15th November 2018 between 5.30pm & 8.30pm!
On the night you can enjoy 10% off all purchases*, Christmas treats in our food market, free wine, free soft drinks, free mince pies, Christmas tree decorating ideas, floral demonstrations, carol singers, toy demonstrations, gift ideas galore and of course, our charity raffle!
This year our charity raffle is in aid of the Alzheimer's Society. They are the UK's leading dementia support and research charity, here for anyone affected by any form of dementia in England, Wales and Northern Ireland. To find out more about the Alzheimer's Society, please take a look at their website: www.alzheimers.org.uk
It promises to be an amazing evening full of festive activities and we look forward to seeing you there!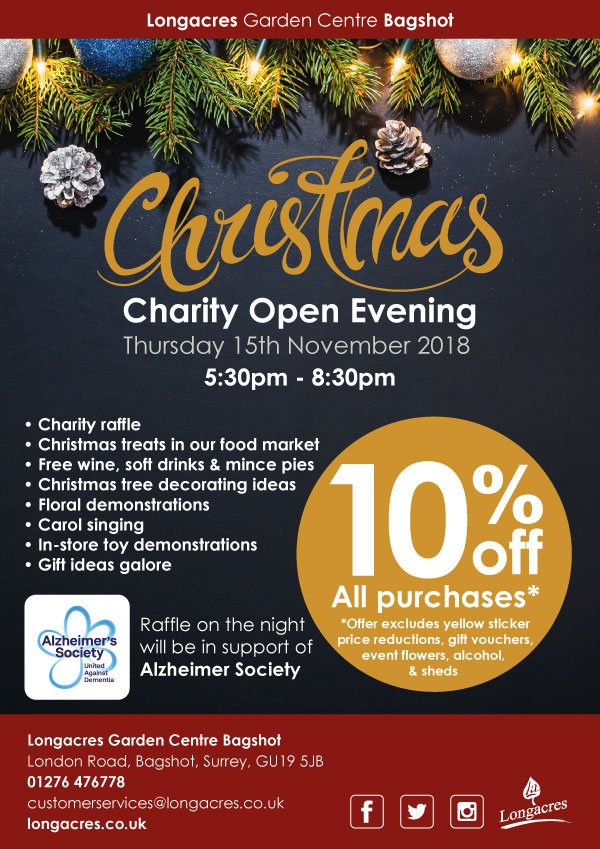 Here is a list of all the prizes that can be won on the night:
£500 Christmas Lights Voucher
Artificial Tree – 6ft Green Arctic Spruce
Acrylic Christmas Light Figures
BBQ Bundle with a Weber Spirit BBQ
Kingstone Statue
Kelkay Water Feature
Johnnie Walkers Bottle of Whiskey
Set of 3 Heritage Pots in Sage Green
Decorative Outdoor Pots & Topiary Balls
Dogs Food Hamper
A £50 Fresh Flower Bouquet
A £50 Fresh Flower Bouquet
Turkey from Bevans Butchers
Food Hamper
£25 of Natural Instinct Dog Food
Toys Hamper
Relaxation Hamper
Gentlemen's Clothing Hamper
Christmas Jumper Hamper
Wreath Making Hamper
Large Octopus Dog Toy
Snack holder & Popcorn
Don't forget, we here at Longacres also have a huge selection of artificial Christmas trees, cut Christmas trees, potted Christmas trees, Christmas lights, Christmas decorations, Christmas tree skirts and loads more online right now.
*offer excludes yellow sticker price reductions, gift vouchers, events flowers, alcohol and sheds. Offer is in store only at Longacres Bagshot Garden Centre