Greenfingers Staff Charity Walk & Raffle
Publish Date: 09/03/2018 10:33
UPDATE - Due to the weather conditions on Sunday 18th March 2018, we have now rearranged our walk & fun day to Sunday 25th March 2018.
The charity Greenfingers is one that we have supported and raised money for in previous years, and thanks to your help they have been able to create some magical gardens for children's hospices.
On Sunday 25th March 2018 to help raise money for this fantastic charity the staff will be walking from Longacres Shepperton to Longacres Bagshot, totalling a distance of just over 12.5 miles and an expected walking time of just of 4 hours! We have set up a JustGiving page for anyone who would like to donate some money and help us spur on the team who will be participating in the walk.
In addition to the walk, we will also be holding a charity day at Longacres Bagshot on Sunday 25th of March. We will be holding a raffle in aid of Greenfingers, we'll have free food tasting and much more happening in store.
Be sure to join us in store for a fantastic fun filled day and if you spot the team walking on your drive to Longacres, be sure to give them a toot and say hello! You can find our JustGiving Page if you'd like to make a donation and we'd like to say a big thank you in advance.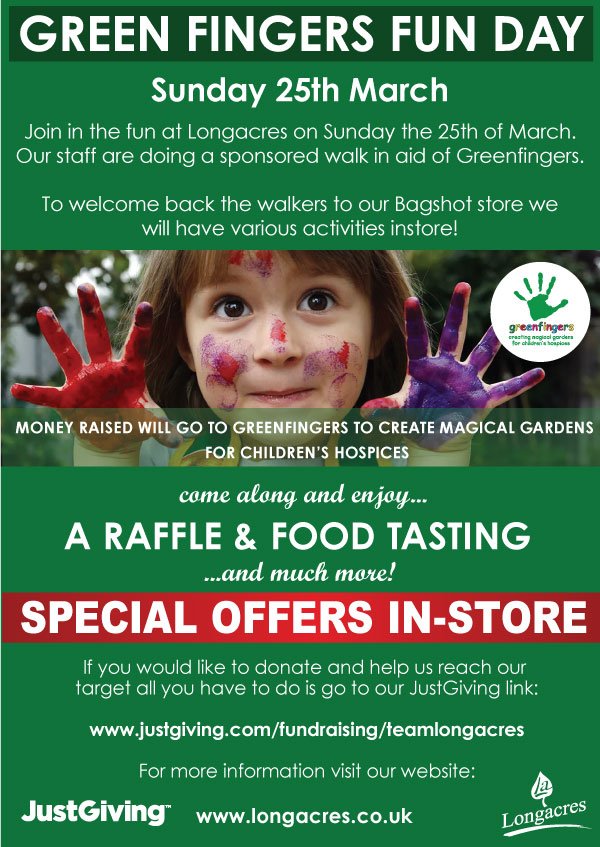 We're raising money for Greenfingers, a brilliant charity we've supported from the start. They create gardens for children's hospices all over the UK. From their own page:
"We are a national charity dedicated to supporting children who spend time in hospices around the UK, along with their families, by creating inspiring gardens for them to relax in and benefit from. We create beautiful, well-designed outdoor spaces for children to enjoy with their family, friends and siblings, whether through play and fun, or therapeutic rest and relaxation.
Greenfingers Charity is driven by the belief that time spent outdoors, away from the bedside, can offer children and families under considerable stress a vital opportunity to embrace the benefits of being in the fresh air and engaging with the natural environment. We are committed to creating specially designed, stimulating garden spaces that can bring many benefits to children with life-limiting conditions."