Longacres Bybrook Barn
On Friday the 29th of July 2016 Longacres completed the purchase of a new site - welcome to Longacres Bybrook Barn! Based in Ashford, Kent, Bybrook used to be one of the top family run garden centres in the UK in its heyday, and we are currently working towards restoring it back to its former glory (and so much more!)
The centre is still open 7 days a week whilst the work is taking place and we still have the fantastic low prices that you have come to expect from our other 3 stores. We also have a grand opening weekend planned for the 8th & 9th of October - you can find out more information on this as we know more by clicking 'like' on the Longacres & Bybrook Barn Facebook pages and 'follow' on the Longacres & Bybrook Barn Twitter pages. You can also find out more about our plans by taking a look at our Blog article here.
Although smaller than our flagship Bagshot garden centre, the Bybrook store will carry a large range of products, including: outdoor plants, shrubs and trees | houseplants | cut flowers and floristry | giftware | cards | garden tools | garden sundries | chemicals | toys | food | stoneware, aggregates, timber and fencing.
We will also stock seasonal ranges including Christmas (trees, lights, decorations and more), barbecues and garden furniture.
Please note that assistance dogs only are allowed beyond the Pets Corner concession.
Bybrook Restaurant & Tea Room
The Longacres Bybrook Barn restaurant and tea room gives you the ideal opportunity to sit in comfort and take a break. Whether you choose to take the weight off your feet after shopping in the Longacres Bybrook Barn Garden Centre and enjoy a full course meal or are just meeting friends for a cuppa, the restaurant offers good value, high quality food from an extensive menu which caters to everyone's needs including a varied vegetarian choice.
American Diner
The Riverview Diner is a genuine American Diner that was shipped to England in 2001 and now resides in Ashford, Kent. The current owners have endeavored to continue the Diner spirit as a place where anyone and everyone can meet, hang out and can get everything from a terrific meal to a decent cup of coffee at a great price.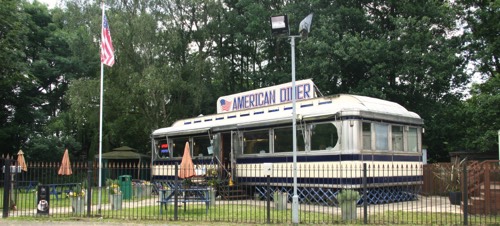 Come along and experience for yourselves a simple, honest service with generous portions of food & bottomless coffee, tea and sodas all at affordable prices, served in a friendly welcoming atmosphere.
The American diner is situated adjacent to Longacres Bybrook Barn and is open from 7.30am to 11.00pm 7 days a week. To book a party please call 01233 878 141
Opening Hours
Monday to Saturday 8.30am - 5.30pm
Sunday 10am - 4.30pm
Late night every Thursday until 8pm

Telephone 01233 631959
Email bybrook@longacres.co.uk
Cemetery Lane, Ashford, Kent, TN24 9JZ
(View on Maps)