Creating winter flair - plants for January colour
Publish Date: 20/01/2014 11:31

January is a rather somber month. The dull grey days, with wet miserable weather coupled with cold temperatures really dampens the mood of any garden. There is a ray of hope however and you can, believe it or not, inject some January colour and scent into your garden to lift the mood! Witch Hazels (Hamamelis species) Witch Hazels are a deciduous shrub that really come into their own during the deepest winter months. They have unusual, brightly coloured flowers that are highly scented, borne on their bare stems from January through to March and look stunning in the garden.

Top Tips for Witch Hazel
Plant in a sunny position, avoiding exposed windy areas.
Plant in neutral or acid soil.
Make sure that the plant doesn't dry out or your witch hazel may not produce any flowers!
Skimmia (Skimmia japonica cultivars) Skimmia plants are reliably hardy and beautiful providing clusters of vivid red berries (Female plants) or group spikes of delicately scented red/white flowers (Male plants) from December though to March. You can also get Skimmias that produce both flowers and berries on the same plant without the need for separate male and female plants! Top Tips for Skimmia
Skimmias like part or full shade, they will scorch in full sun.
They can be planted in just about any soil type as long as it is free draining.
Skimmias can also be grown and look great in containers!
Christmas Box (Sarcocca species) Christmas box is a lovely, low growing, evergreen shrub that in January and February produce clusters of small white flowers (which are very well hidden underneath the foliage) that have a wonderfully strong scent to them! Plant near a door way or a path to get the best out of the plants unbelievable scent. Top Tips for Christmas Box
Christmas box likes to be planted in full or partial shade.
An excellent plant for use as unusual ground cover.
Prune lightly each year to maintain shape and encourage new growth.
So despite the miserable weather and soggy looking gardens, you can inject some well needed colour and wonderful scent into your garden - even in January!

Witch Hazel: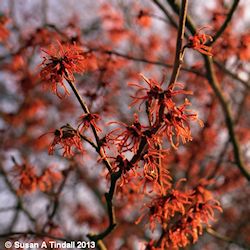 Skimmia: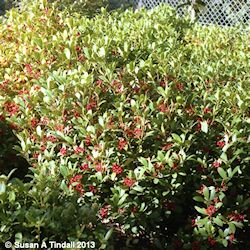 Christmas Box: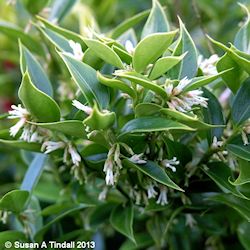 Share